In an increasingly digital world, the demand for tools that can streamline our work and optimize productivity has skyrocketed. Whether you're a professional presenter, a business executive, an educator, or a student, the necessity of creating compelling, visually stunning presentations is a shared concern. One solution that's been garnering attention is Decktopus AI, a web-based platform that promises to revolutionize the way you approach your slide designs.
Decktopus AI integrates artificial intelligence to design and enhance your presentations, striving to take them to the next level. Its central promise is its ability to adapt your slides based on your content and objectives. The question, however, remains: Does Decktopus AI live up to the hype? Is it the best AI-powered presentation tool of 2023? Or are there better options out there?
In this comprehensive Decktopus AI review, we dive deep into its characteristics, investigating the platform's features, assessing the value for money in terms of pricing, identifying its strengths and weaknesses, and evaluating how it stands in comparison to other competitors in the AI presentation tool market. Our aim is to provide you with the most thorough, unbiased insight to assist you in deciding whether Decktopus AI is the right tool for your presentation needs.
As you journey with us through this review, you'll get to see why Decktopus AI has been the topic of many discussions and whether its innovative approach to presentations is as transformative as it claims to be. From functionality to aesthetics, we leave no stone unturned. So, whether you're deciding to switch from your current tool or looking for your first presentation software, this review will equip you with the information you need to make an informed decision.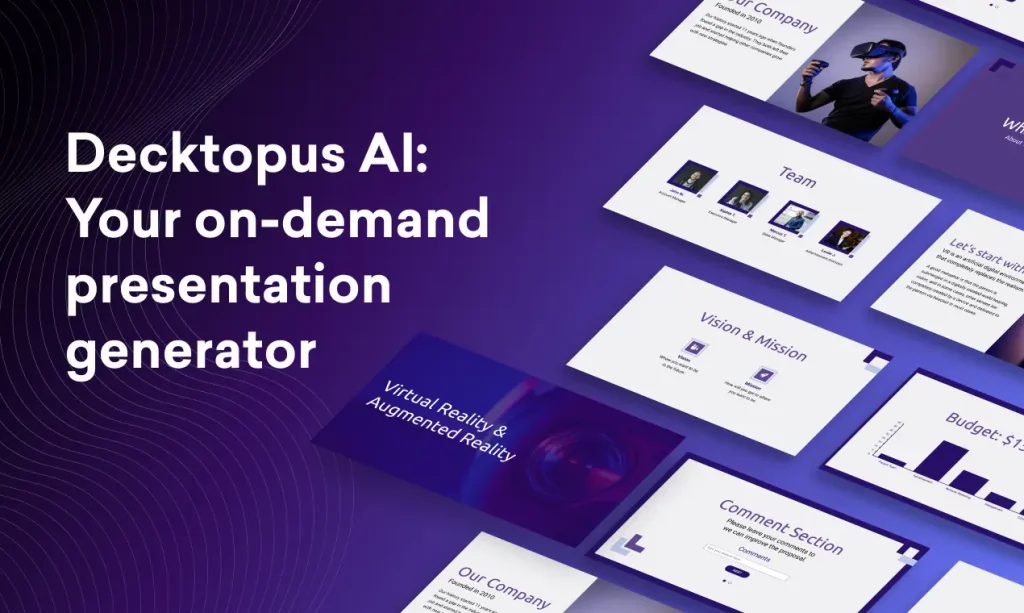 Features
When it comes to creating a dynamic and persuasive presentation, the features your chosen tool offers can be a decisive factor. Decktopus AI comes packed with a suite of functionalities aimed at making the process of crafting presentations not only simpler but also more efficient. Let's dive into the main features that make Decktopus AI stand out in the crowded market of AI-powered presentation tools in 2023.
Templates
A time-saving grace offered by Decktopus AI is its expansive library of over 100 professionally designed templates. Whether your presentation requires a formal tone for sales pitches, a creative approach for marketing, an engaging style for education, or an emotive feel for storytelling, Decktopus AI has a template to cater to your needs. By allowing you to infuse your branding and tailor the content, Decktopus AI provides a versatile foundation for your presentation.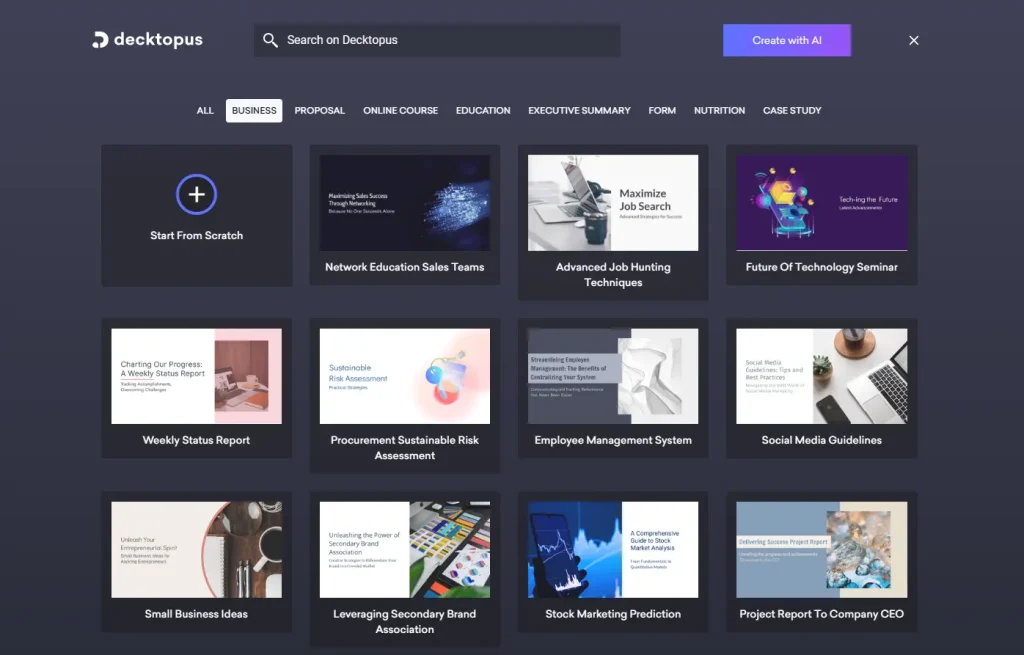 AI Design
Perhaps the most intriguing feature is Decktopus AI's incorporation of artificial intelligence in designing slides. The platform uses AI to adapt the layout, color palette, font, and style of your slides according to your content and objectives. This results in a customized and cohesive design, eliminating the need for constant manual adjustments. However, if you wish to exercise greater control over your design, the tool doesn't limit your creativity. Decktopus AI accommodates personal tweaks to the design, allowing you to create a truly bespoke presentation.
AI Content
Content is king, and Decktopus AI's AI-powered content assistance takes this adage to heart. The tool offers suggestions for headlines, bullet points, images, icons, charts, and graphs aligned with your keywords and data. This means you can generate relevant, compelling content without the need for constant brainstorming. Additionally, the voice-to-text feature adds another layer of convenience, allowing you to transcribe your thoughts directly into slides.
AI Feedback
As a presenter, continuous improvement is key, and Decktopus AI's feedback system facilitates this. The AI assesses your presentation against best practice criteria like clarity, engagement, structure, and design, providing a quantitative score. In addition to this, it offers qualitative tips on enhancement, aiding you in creating a presentation that meets audience expectations.
Collaboration
Recognizing the importance of teamwork, Decktopus AI includes robust collaboration features. Whether you want to co-create with a team or gather feedback, the platform makes it easy by allowing you to share a link to your presentation with others. This enables them to view, comment on, or edit your slides. Coupled with presentation analytics like views, time spent, and feedback, Decktopus AI ensures you're always in sync with your audience and team.
In our comprehensive Decktopus AI review, we've highlighted the major features of this AI-powered tool. Its combination of artificial intelligence, design flexibility, content assistance, actionable feedback, and collaboration facilities will provide an all-in-one solution for presentation creation in 2023.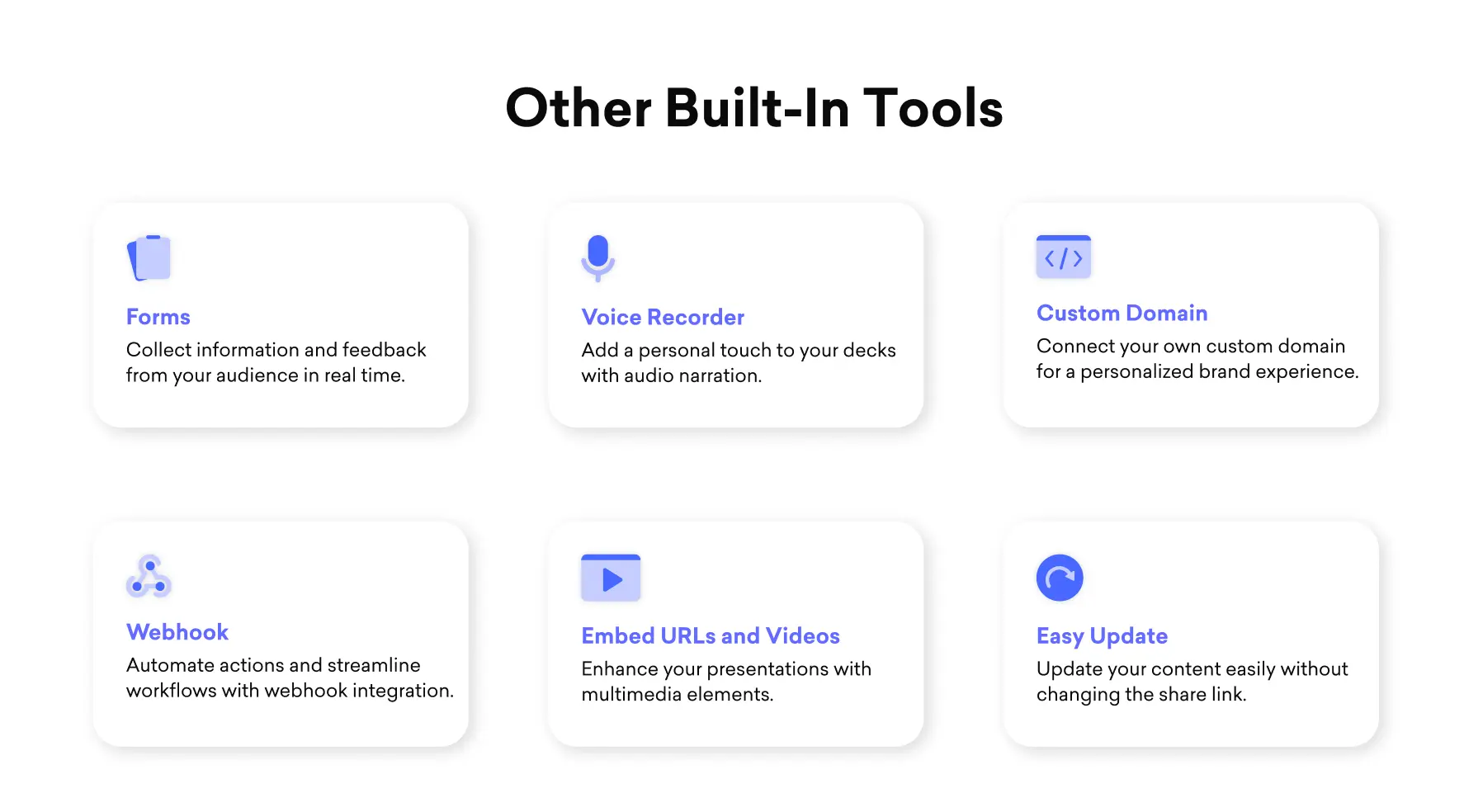 Pricing
Finding a presentation tool that offers both top-tier features and affordable pricing can be a daunting task. In our Decktopus AI review, we aim to break down the platform's pricing structure to provide a transparent look into what you can expect to invest and what value you'll receive in return.
Free Plan
For those who are new to the world of AI-powered presentation tools or are unsure about investing right away, Decktopus AI offers a Free plan. This allows users to create up to three presentations, which is a great way to get a feel for the platform's functionalities and user experience. While some features are limited under the Free plan, it gives a sneak peek into the world of efficient, AI-assisted presentation creation.
Pro Plan
At a price point of $9.99 per month (or $7.99 per month if billed annually), the Pro plan offers a significant upgrade. It opens up the full potential of Decktopus AI, providing access to all features and permitting unlimited presentations. If you frequently create presentations or require a wider array of functionalities, the Pro plan could offer excellent value for money.
Business Plan
For businesses seeking a comprehensive presentation solution that promotes team collaboration and smooth management, Decktopus AI has the solution. Priced at $36.00 per month (or $29.99 per month if billed annually) per user, this plan incorporates team-centric features that make it easy to coordinate, collaborate, and create compelling presentations as a unit.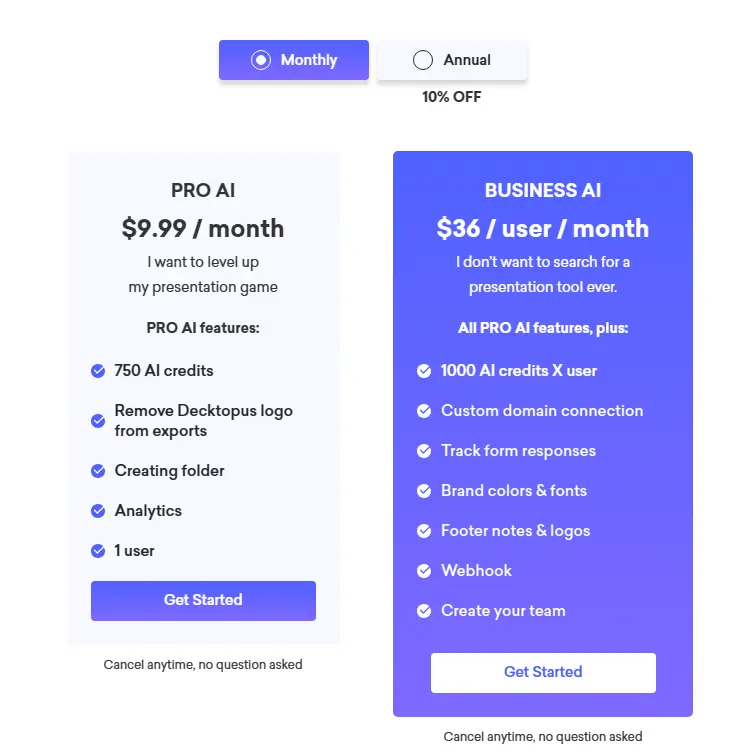 Special Discounts
Recognizing the importance of accessible education, Decktopus AI provides a significant discount for students and educators. With the code SUPPORTEDUCATION, users can avail of a generous 50% discount on their plans, making it a cost-effective solution for those in the education sector.
In conclusion, Decktopus AI's pricing structure is designed to cater to a range of user needs and budgets. Whether you're just starting, a professional presenter, or a business owner, you can find a plan that aligns with your requirements. The next section of our review will focus on the pros and cons of Decktopus AI, a critical aspect in deciding whether this AI-powered presentation tool is the right fit for you. Stay tuned!
Pros and Cons
In any balanced review, it's essential to understand both the positives and negatives of the product or service in question. In this part of our Decktopus AI review, we take a straightforward look at the pros and cons of the tool to provide you with an unbiased evaluation. Remember, the perfect tool doesn't exist; it's about finding what suits your needs best.
Pros
Ease of Use
One of Decktopus AI's major strengths is its user-friendly interface. Even if you're a beginner or someone without much technical expertise or design knowledge, you can navigate the platform with ease. The tool is designed to make the process of creating presentations accessible to everyone, which is a key point in its favor.
Time-Saving
Another significant advantage of Decktopus AI is the efficiency it brings to your workflow. The tool's automation capability can save you a lot of time that you might otherwise spend manually designing and populating content in your slides. Decktopus AI's intelligent algorithms take care of this based on your inputs and objectives, letting you focus more on your presentation's substance.
Engagement
With audience attention spans dwindling, making your presentations engaging has never been more critical. Decktopus AI assists you in creating captivating presentations that not only draw your audience's attention but also effectively convey your intended message. This ability to craft engaging content easily makes Decktopus AI a strong contender in the AI presentation tools market.
While these advantages are substantial, no tool is without its drawbacks. In the spirit of providing a complete and unbiased review, we will cover the cons of Decktopus AI in the next section.
Cons
Just as we discussed the advantages, it's equally important to recognize the potential limitations that Decktopus AI brings to the table. Understanding the cons is critical to making an informed decision about whether this tool is the right choice for your presentation needs.
Limited Customization
A potential drawback of Decktopus AI lies in its limited scope for customization. While the platform provides an extensive range of templates and suggestions, it might not meet the needs of those looking for a more individualized and creative approach to their slides. If you prefer a higher degree of flexibility in terms of design and layout, you might find the options provided by Decktopus AI somewhat limiting.
Internet-Dependent
Another potential issue is the platform's dependency on an internet connection. As a web-based platform, Decktopus AI requires you to be online to utilize its features. Additionally, the inability to use it offline or download your presentations as files could pose a challenge, particularly for users who often work in areas with unstable internet or those who prefer having offline access to their work.
While Decktopus AI comes with its share of pros and cons, it's crucial to remember that the right tool will depend largely on your specific needs, preferences, and circumstances. Analyzing the pros and cons can help provide a clearer understanding of where Decktopus AI stands in the competitive landscape of AI-powered presentation tools. It's crucial to weigh these against your personal and professional requirements before deciding if Decktopus AI is the right choice for you.
Comparison
In the expanding landscape of AI-powered presentation tools, it's critical to understand how different offerings compare. Decktopus AI, while a competent platform, is not the only player in the field. To provide a more holistic view, let's examine how Decktopus AI measures up against other similar tools like Beautiful.ai, Slidebean, and Haiku Deck.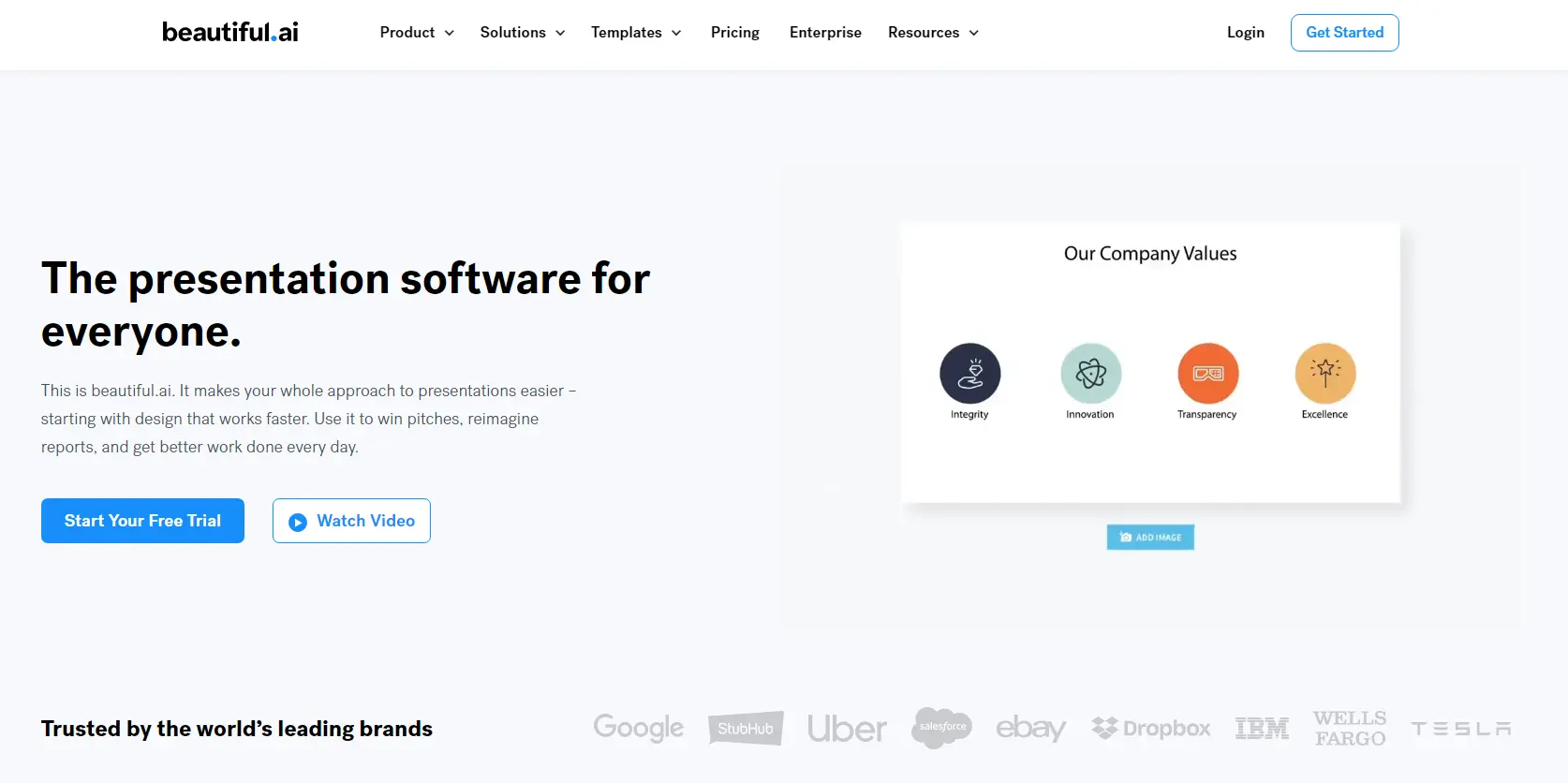 Like Decktopus AI, Beautiful.ai is a web-based platform that leverages artificial intelligence to design slides according to your content and objectives. It offers over 70 templates catering to various purposes, such as reports, pitches, portfolios, etc. You can try Beautiful.ai's pro plan for 14 days without paying, and then pay $12 per month if you choose the annual billing option. Decktopus AI trumps Beautiful.ai in terms of the number of templates available, providing more variety to users.
Slidebean, another competitor, simplifies the presentation creation process. By inputting your content and choosing a design theme, Slidebean's AI optimizes the layout, color, font, and style of your slides. Its approach to AI optimization is similar to Decktopus AI. Nevertheless, Slidebean's free plan allows users to create only up to 10 slides per presentation, less than Decktopus AI's offering. If you need to create longer presentations without a subscription, Decktopus AI could be a better fit.
Decktopus AI vs. Haiku Deck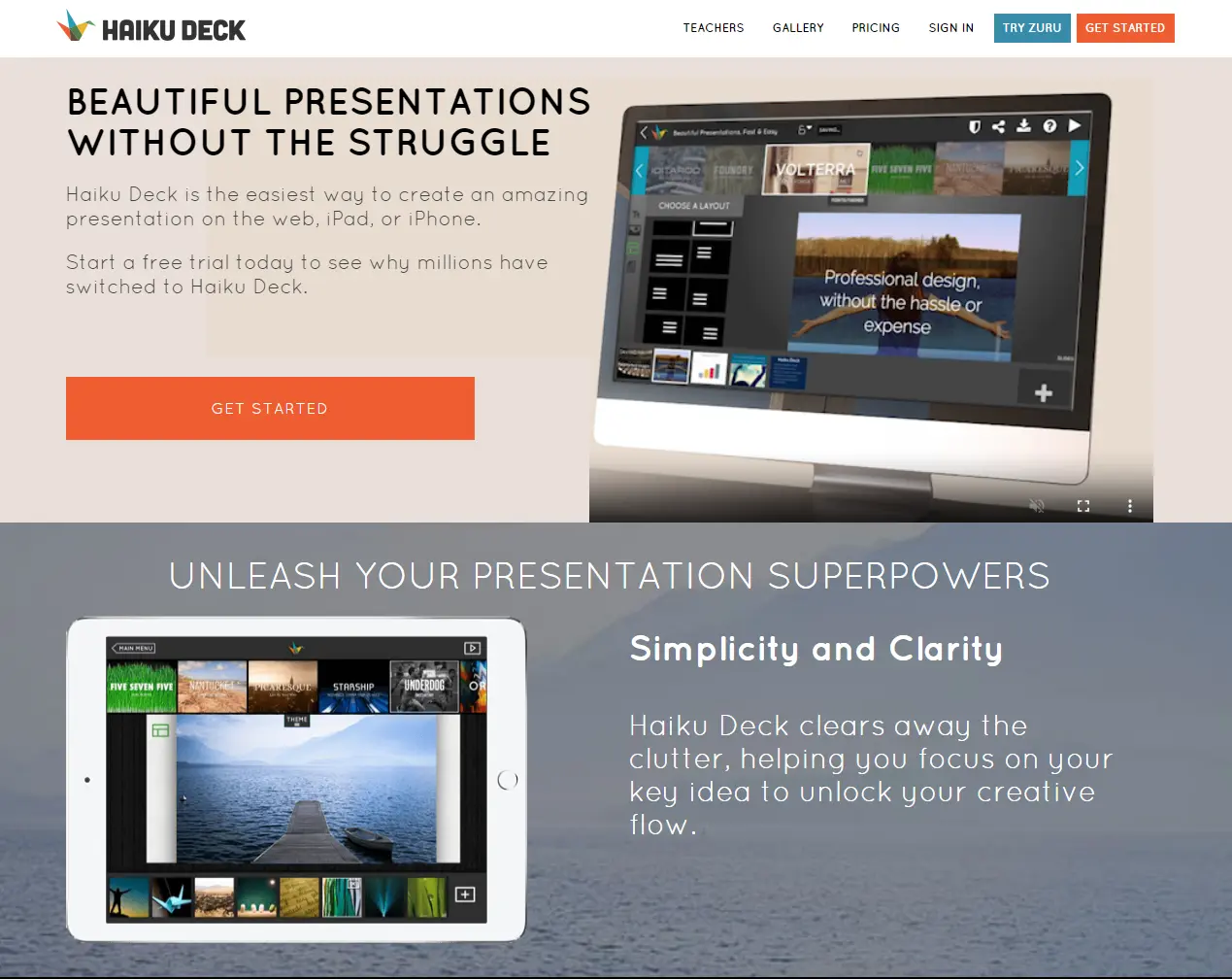 Haiku Deck promotes creating minimalist presentations with limited text and visuals. The AI suggests images, icons, fonts, and colors based on your keywords and data. While the minimalistic style might appeal to some users, it might not be flexible enough for others who require more intricate and detailed presentations. Haiku Deck's free plan matches Decktopus AI's, allowing the creation of up to three presentations.
Comparing Decktopus AI to these alternative tools provides valuable insight into the offerings on the market. Each tool has its own unique selling points and potential limitations, making it important to consider your specific needs and objectives when choosing the right AI presentation tool for you. Remember, it's not about finding the "best" tool overall, but the one that best suits your individual needs.
Decktopus AI vs PowerPoint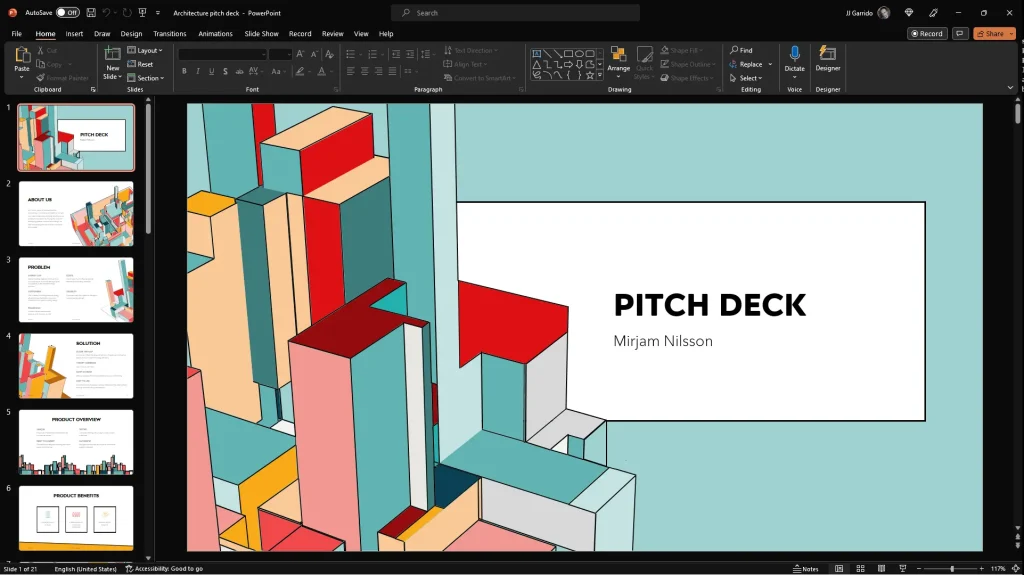 When it comes to choosing a presentation tool, one of the common comparisons is Decktopus AI versus the widely used Microsoft PowerPoint. Both are powerful in their own rights and come with their own unique strengths and potential shortcomings.
PowerPoint, a part of the Microsoft Office suite, is a widely used software application for creating diverse presentations. It offers rich customization and a host of features, making it a robust tool for your needs. Here's how it compares to Decktopus AI:
More Customization and Features with PowerPoint
Unlike Decktopus AI, PowerPoint provides an extensive array of customization options. You can select from thousands of templates or construct your own from scratch, giving you greater control over the slide design, including color schemes, font size, alignment, and shapes. Additionally, PowerPoint boasts a broader range of features to enhance your presentations—think audio clips, video clips, animations, transitions, and even advanced features like charts, diagrams, equations, and SmartArt.
Greater Compatibility with PowerPoint
In terms of compatibility, PowerPoint also has an edge. It seamlessly integrates with other applications and devices, allowing you to export presentations in a variety of formats (PDF, PPTX, MP4, etc.) and import files from other sources, like Excel or Word. Plus, its cross-platform compatibility lets you view and edit presentations on various platforms and devices, including Windows, Mac OS X, iOS, Android, and web browsers.
The Learning Curve and Time Consumption with PowerPoint
On the flip side, PowerPoint can be more complex and time-consuming compared to Decktopus AI. It has a steeper learning curve and requires a certain level of technical skills and design knowledge to create effective presentations. The multitude of options and tools, while advantageous, can sometimes be overwhelming for novice users. Moreover, the time spent designing, optimizing, and manually adding relevant media to your slides could be significantly more compared to Decktopus AI.
Less Engaging Presentations with PowerPoint
While PowerPoint has stood the test of time as a presentation tool, it often falls short in terms of engagement when compared to Decktopus AI. PowerPoint presentations, which typically consist of text and images, can be tedious to watch or listen to, making it harder to captivate your audience and effectively convey your message.
Ultimately, the choice between Decktopus AI and PowerPoint boils down to your specific needs and circumstances. For those seeking a tool that saves time and simplifies the process with AI-powered design and content creation, Decktopus AI might be a better fit. Conversely, if you prefer greater customization and feature richness and don't mind spending more time, PowerPoint might be the better choice. Both tools have their distinct places in the realm of presentation tools, and understanding their comparative advantages can help you make an informed decision.
Final Unbiased Thoughts
In the rapidly evolving landscape of presentation tools, Decktopus AI emerges as a potent and forward-thinking contender. Its ability to harness the power of artificial intelligence to streamline your presentation creation process sets it apart from many conventional tools. With Decktopus AI, your presentations can be elegantly designed and optimized based on your unique content and objectives – all within minutes.
This innovative platform goes beyond just design, offering collaboration options, invaluable feedback on your presentations, and even voice-to-text capabilities. Such features can significantly enhance your productivity and improve the overall quality of your presentations.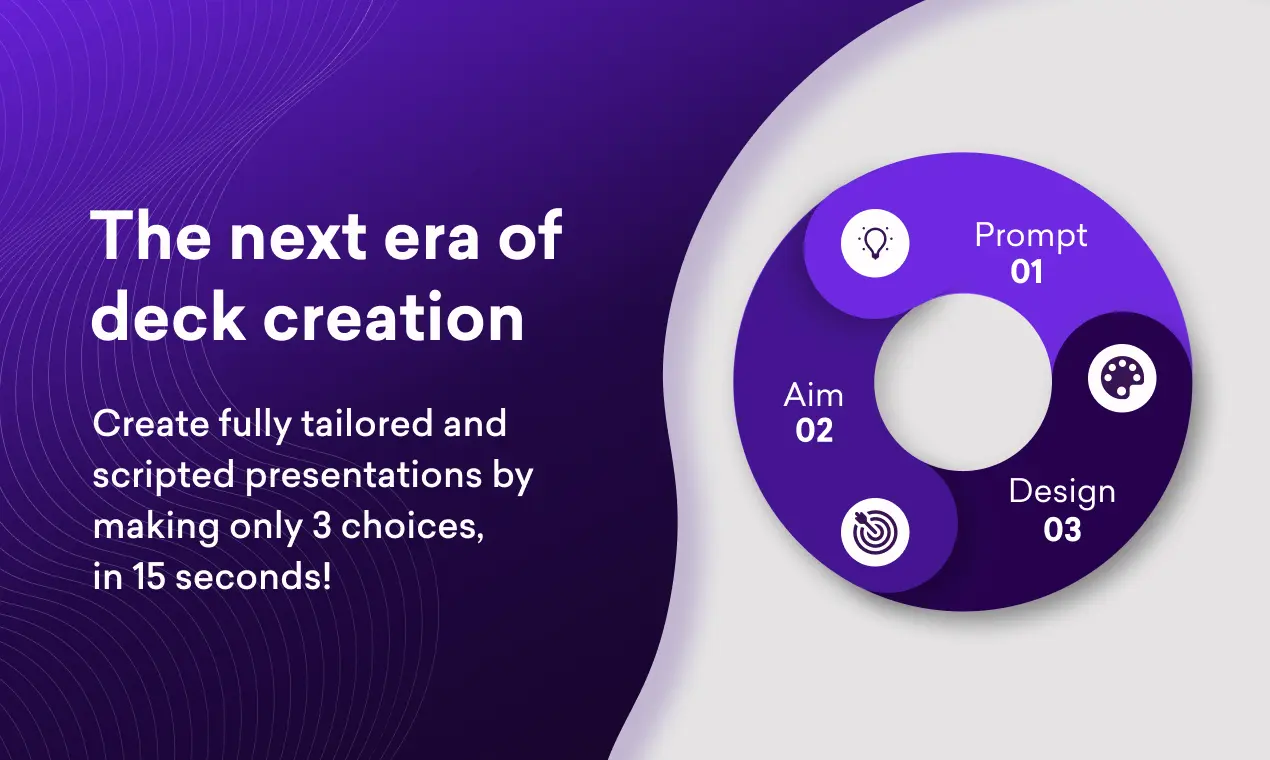 However, no tool is without its limitations. Decktopus AI's customizability may seem restricted for some users, especially those seeking highly personalized design options. The platform's reliance on an internet connection may pose challenges for users who need offline capabilities. Moreover, the pricing structure may be steep for some, especially when compared to other tools offering similar or more features.
Before committing to Decktopus AI, it's crucial to consider these potential downsides, balancing them against the platform's benefits. Moreover, comparing Decktopus AI with other available presentation tools can help you identify the best fit for your specific needs.
The world of presentation tools is vast and varied, and finding the right tool can be instrumental in communicating your ideas effectively and efficiently. So whether you're leaning towards Decktopus AI, considering another tool like PowerPoint, or exploring other AI-driven platforms, your choice should align with your unique presentation goals, preferences, and budget.
Before you go, I invite you to join our community by subscribing to our newsletter. Stay up to date with the latest in UX design, gain insights into top tools like Decktopus AI, receive expert tips and resources, and be part of a community that's passionate about good design. I'm looking forward to connecting with you! Subscribe now.